Sports Illustrated and Grantland's Men in Blazers predicted that South Korea will get out of group H in the World Cup with a second place finish behind Belgium. Having been a fan of my native country for 12 years (I have jumped the bandwagon since 2002), I agreed with them wholeheartedly that this team can make it to the top 16 and put up a decent fight against Germany.
The Taeguk Warriors are aptly capable of bringing the ball to the box in just three to four passes. They love to put high pressure on the midfield and sprint towards a counter-attack off every turnover. They possess one of the best up-and-coming players in the Bundesliga, Son Heung-Min, and a midfield maestro who helped Sunderland escape relegation, Ki Sung-Yueng. They also have a coach in Hong Myung-Bo who led the U-23 team to a Bronze medal finish in the 2012 Summer Olympics, the first for any Asian country. Things seemed to be going in the right direction for this team…but it hasn't.
The recent 4-0 loss to Ghana raised concerns regarding Korea's defense, but the team's inefficiency and lack of attacking prowess drew a lot of my ire. If Korea wanted to live up to the expectations of making it out of the group stages for the second consecutive World Cup, then they should at least have shown a killer edge on the offensive end regardless of how spotty their defense was.
I still hold onto my belief that offense wins the group stages and defense carries you through the knockout phase. I also believe that those who don't score will get scored upon. If defense isn't your strong suit, then make your offense the ultimate defense. Unfortunately, Korea has failed to follow upon that.
The poison injected by former coach Choi Kang-Hee has not worn off from this Korean squad. The ugly football South Korea showed during their World Cup qualifying matches is still on display despite having a new coach and a revamped starting eleven. The team is caught stringing combinations of aimless passes around the midfield (eventually back to the goalie) and the defense panic in a frenzy when their opponents go in the counter-attack. While the poor defense is likely attributed to the personnel, the offense, which should have improved when Hong took over, still has not found it's cohesiveness.
When Choi was the coach, the Taeguk Warriors played a dull schoolboy type of game where the midfield sends a pass to one of their wingers who then launches a cross to their target man with hopes of getting a goal. While the strategy seemed great thanks to their 6′ 7″ striker Kim Shin-Wook, it was too predictable for the opposing defenses to read. Moreover, there was no off-ball movement whatsoever from their forwards and midfielders, giving opposing defenses ample time to recover and stick to their formations. This often resulted with an aimless cross in a congested box that was easily cleared away. This gif from Korea's qualifying match against Qatar back in 2013 epitomizes Korea's offense last year.
And if you're wondering why Korea struggled mightily against the likes of Iran, just know our offense was oftenly run like this.
There was no off-ball movement whatsoever as everyone hardly took a step and watched the ball. They all stood around, expecting the ball to simply come to them rather than running to an unmarked position to draw away defenders and open up space for their teammates to receive the ball.
While it's plausible that Korea's struggles were attributed to Choi's preference to use K-League players over Europe-based talent, things have not looked better when Hong took over despite starting the best possible lineup. Even with Ki Seung-Yong as the key playmaker, he couldn't make magic happen as his teammates stood around waiting for the ball to come to their feet. The lack of off-ball movements often led to congestion in the box and tight spaces for the offense, resulting in forced shots from distance as seen in the Tunisia friendly.
Although golden opportunities has looked few for Korea, the Taeguk Warriors squandered good looks by second guessing rather than instinctively going for a shot. Once the ball has entered the box, the Korean players often over-passed, giving opposing defense ample time to add pressure against the offense to force a miss as seen in this gif from the Ghana match.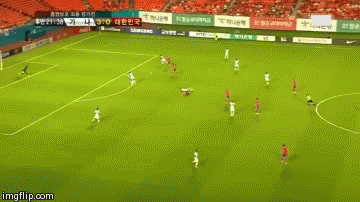 This could be one of the dullest and stagnant teams Korea has ever fielded entering the World Cup. 20 years ago, South Korea put on a valiant performance in the 1994 World Cup, despite fielding zero players from major European leagues, coming back from a 2-0 deficit to tie with Spain (see below) and almost mounting a comeback against Germany in a 3-2 loss (second gif from below).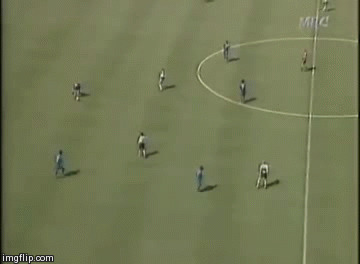 Even though the team was out-matched in talent, the Koreans knew how to move without the ball, time their runs, and be found in the perfect position to score. This isn't high-IQ soccer that you learn in the English Premier League or the Bundesliga. This is just a major fundamental of the game. The players from the 1994 team understood that concept, despite hailing from an Asian soccer league that was barely a decade-old. Yet they held onto those fundamentals and managed to function as a team.
Regardless of the individual talent on the pitch, teamwork wins matches. All 11 players on the pitch have a duty to fulfill on both ends to contribute to the victory, including making smart movements without the ball to guide chances at goal. Korea's problem will not be fixed overnight, which is a shame considering the talent they have in their squad. Considering that they only have a week to build chemistry on the pitch and learn how to move without the ball, expect South Korea to bottom out of this World Cup as one of the worst teams in the tournament.
Tags: South Korea World Cup